China – My Dream Come True
Since commencing my study of Feng Shui in 2004 a calling has been growing inside me to visit the country where this amazingly powerful system originated. Eleven years later, having studied with over 10 Masters and Grand Masters and Feng Shui Colleges and close to 1000 consultations completed my calling was achieved. In October 2015 I felt like I had come home and my dream had become a reality.
The feeling of excitement that I felt when I saw the rambling expanse of the Great Wall of China and the exhilaration I felt after climbing 2500 steps to get to the top of one part of it will never leave me.
China is an amazing land with a rich cultural history. With 20% of the worlds population residing in China and a land mass which makes it the third largest country after Russia and Canada the place is full of cultural treasures in all its parts of which I got to visit only a few. Interestingly this land mass is only 10% arable to feed one fifth of the world population.
In terms of History, Confucius lived from 551- 479BC and he underpinned China's philosophy and culture for 2500 years. In 214BC Emperor Qin linked existing walls to form the Great Wall of China.
In 100BC Buddhism arrived from India. To try and capture my 19 day adventure in words and a few photos will never give it justice but I will do my best.
My travel partner Linda and I left Sydney and caught two planes via Guangzhou to arrive in Beijing 17 hours later. Our travel plan included joining a tour with an English Speaking guide for the first 13 days, followed by some time to explore Shanghai ourselves, followed by study with Grand Master Steven Skinner and ending our time in China by attending the IFSA International Feng Shui Conference.
Beijing is the historic capital of China and three dynasties ruled here – Yuan, Min and Qing. Japan occupied it in 1937. In 1949 Mao Zedong pronounced the People's Republic of China and Communism has ruled since then. The architectural designs of the large corporate buildings throughout the building are astronomical and truly beautiful in every way. It is quite obvious that many of these buildings have been designed following Feng Shui principles.
Probably one of our fullest days was our first one. First stop was Tiananmen Square, which was massive. It is the largest public square in the world and totals 444,000m2. Next stop was the Forbidden City, which was just amazing, it had courtyard after courtyard and buildings in various layers. This was the house of two dynasties of Emperors and was built around 1415. It is the largest palace complex in the world but has been unoccupied since 1949 when China became a Republic.  There are 9999 and a half rooms. Half a room less than the home of God which in Chinese mythology has 10,000 rooms. Lots of old buildings and worn paths made this feel like Old China. The Guardian Lions have the male with its paw on the world globe representing the Emperors power and the female lion has its paw on a baby lion representing the Emperors fertility. There were 308 large vats of water around the Palace that were used in case of fire. References to Feng Shui were everywhere. Getting up close and personal with phoenix, dragon tortoise and Pi Xiu statues was just wonderful.
In the afternoon we were taken to the Summer Palace, which was where the emperor went in the warmer weather. It is a man built lake (Lake Kunming) that took 11 years to dig and the mud from the lake constructed the mountain that is here (following good Feng Shui principles of course). It is overlooked by Longevity Hill and was much loved by the Empress Dowager Cixi. A large Quan Lin statue takes pride of place here. Interestingly by the end of the trip, the goddess Quan Lin will play an important part of my journey – more on this later.
This was another beautiful place although sadly there does not seem to be much in the way of preservation occurring with the buildings or myriad of paintings that are slowly deteriorating away left out in the elements. It holds the Guinness book of record for the longest corridor.
From here we went to a Chinese Theatre to see an Acrobatics show. There were 9 different performances each one more amazing than the previous. That night we were taken to the Imperial Palace for a feast of Peking Duck. Beijing used to be called Peking and although the city has changed its name, its favourite dish remains.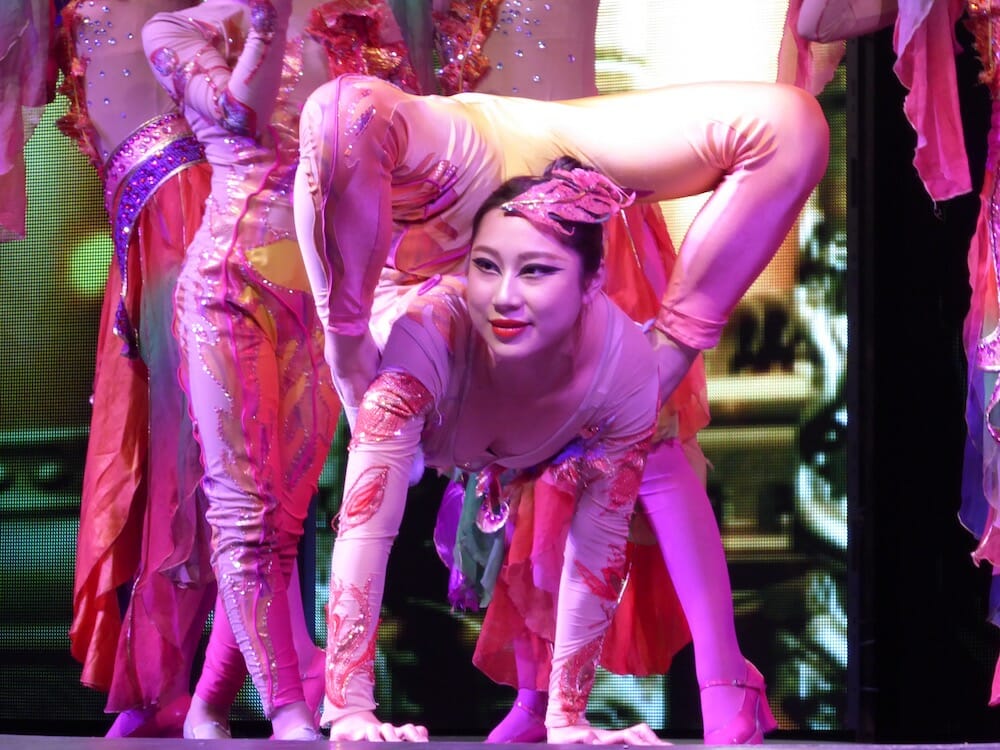 Our second day was probably our second busiest after the first. For me though, it was the highlight of my trip. Today was the day I would achieve a dream – to walk on the Great Wall of China. I was so excited and couldn't wait to start our journey. First stop was to a Jade factory. Jade is the National emblem and was inlaid as part of the Olympic medals in the 2008 Beijing Olympics. This factory made the medals. The carvings here were amazing. Due to luggage restrictions and a daughter named Jade I simply had to purchase some small items. I thought a bangle would be great and it would have three benefits. It meant I would always carry my memories of China and also my daughter with me.  Jade is also green so as wood is one of my favourable elements this colour is beneficial for me to wear as well. I also purchased a family ball which consist of 3 hand carved balls each smaller than the outside ball all carved from the one piece of Jade. The balls represent three generations (very important to the Chinese especially in terms of burial sites) which assists in family harmony, longevity and prosperity. A further item – a Pi Xiu symbolises increase in wealth for those who hold them. They have a large mouth which brings abundance to the owners and is held within the home. All items were made of Jade.
We arrived at the Great Wall of China which was built around 221-207BC in the Qin Dynasty. It is a standout ruin careening haphazardly across the undulating North. We could choose to get a photo and carved wooden scroll with a poem and picture relating to the Great Wall on it. Of course I couldn't resist. I really like the picture as it captures my happiness at having the good fortune to be achieving one of my dreams. Linda (my travel companion) wears a pedometer each day so I was adding this important information to my travel journal. On the Great Wall we managed to do 2500 steps – the majority of which were ACTUAL steps!!! Very steep and differing step sizes made climbing the wall a little challenging but it was so great managing to get to the top, it was all worthwhile. Views were sublime and to be that close to a living dragon mountain was unbelievable. The land literally breathed with the dragon energy.
After this we were driven to the oldest part of Beijing called Hutong (meaning ancient alleyways). It is supposedly the cultural heart of Beijing with lots of historic lanes however it is a fairly run down but amazingly expensive area – cost $40,000US/square metre and has a permanent ownership structure so it gets passed down from one  to the next (unlike the rest of Beijing that operates on 70 year leases). The occupants are older and all use public toilets as no bathrooms are in the homes. We had a rickshaw ride (cart hooked up to a bicycle which didn't feel too authentic) around the area and ended up having lunch in one of these homes. It was an experience we could generally do without as the area was unattractive, the food not to our liking and really the only part of the tour so far we did not enjoy.
We visited the Olympic site and saw Birds Nest Stadium and the Water Cube where the Beijing 2008 Olympics were held. My favourite building was here – it consisted of 5 parts which made up the shape of a dragon. Building 1 was the head, buildings 2, 3 and 4 were the body and building 5 was the tail.  Following this we went to the Chinese Traditional Medicine Academy which was phenomenal. Professors came out and sat with use checking our pulse, tongues and circulation and discussing aspects that they could provide medicine for to assist our overall health – all whilst having a half hour foot massage by students studying there – absolute bliss. I walked away with 3 different types of medicine to improve my fatty liver, hormones and back/neck pain. I have been on this for a month now and have noticed a difference (although not sure if my liver is still fat – LOL as I cant see it!).
After a really early start  (5:30 wake up call for meeting in lobby at 6:20) we picked up our packed breakfast then caught our tour bus to the train station to board the 8am bullet train to Xian. It took 6 hours but went really fast as I had a report to do and photos and journal to catch up on. Xian is where the Silk Rd terminates. Its old name is Chang-an and it used to be the worlds most dazzling capital. Population is 6.5 million. Lots of bleak country side, pollution in air was obvious from all the factories and an amazing amount of empty apartment blocks – called ghost towns that were stopped halfway – just the concrete shell, no windows, due to lack of money as no one wanted to live in these cities.
Once we arrived we went straight to the Big Goose Pagoda which is Tang style architecture (square not round) and was where the Buddhist Sutras which were bought back from India by the monk Xuan Zang in 652AD were stored. His travels inspired the best known Chinese literature – Journeys to the West. I purchased a calligraphy stamp with the word Carolyn in English and Chinese. We also saw the Bell Tower and Linda paid 5 Yuan ($1) to ring the bell which is supposed to bring her luck. Then to the City Wall which remains intact from the Ming era which was built in 1370 and is12 metres high. It is surrounded by a dry moat and is rectangular with a perimeter of 14kms. We explored for a while then went to Muslim street which was a place where the Muslim population hang out, eat food and shop. It comes alive at night and has a carnival feeling.
The next day we visited the Shaanxi History Museum where we found some lovely old sculptures of the 12 signs of the zodiac animals. The shop had some lovely things and I purchased a rat mask, astrology book on Rats (yes I was born I the Year of the Rat) and 2 Chinese calligraphy cards with Jade and Carolyn written in Chinese. I also found really cute Chinese astrology animals for my husband Greg (Rooster), myself, and my son Byron (Rabbit) and daughter Jade (Snake). We drove to a porcelain factory to see how the Terracotta warriors were made and also saw some beautiful Chinese furniture, other pottery and silk screens. I bought a Xmas decoration of a panda which was the first decoration to make it on our Xmas tree this year.
We then proceeded to the Army of Terracotta Warriors  which is a subterranean life-sized army of thousands of warriors standing guard over China's first unifier for more than 2 millennia – Qin Shi Huang. We had a look around the amazing Pit 1 which is where the majority of this 8th wonder of the world are located. Each warrior has a different expression on their face. We stopped for lunch and then continued looking at Pit 2 and 3. We spent nearly 4 hours at the museum the magnitude of which really has to be seen to be believed.
We had dinner at a Dumpling Restaurant which makes its dumplings in the shape and colour of its contents. We watched a Chinese dance show that had been performed for the US First Lady in 2014. The costumes and backdrops were stunning and it was a great cultural experience – the dumplings were good too! Managed to squeeze in my first (and as it turned out only) cocktail of the holiday – a Margarita!
The next day we flew from Xian to Guilin. Guilin is known as the business card of China. Of the 4 main cities people visit – Beijing, Shanghai, Xian being the others, it is the prettiest. It is surrounded by amazing mountains and rice paddies known as Dragons Backbone Rice Terraces and there is a no skyscraper rule to preserve the views. The terraced patty fields are up to 1000m high. The fields turn golden just before harvest (October) so they looked amazing glinting in the sunlight. We took a bus to the bottom of the hills where we transferred to another smaller bus which could navigate the hills and narrower roads. We arrived at the highest carpark where we had to walk (or should I say hike) the rest of the way. We paid 40Y (around $8-$10 AUS) for 60-80 year old women to carry our bags in large baskets on their back (including the return trip). Best value of the trip so far although I did feel a tad guilty!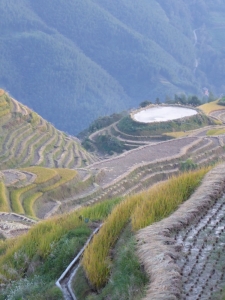 The hike was very scenic and meandered through the village and little shops so you could actually experience the villagers way of life. The Ping-an Village is a 600year old village made up of the Zhuang people. The villagers have a traditional costume which they wear – pink and black – and they grow their hair and wind it on their head beautifully. They cut it once in their life at age 18 which signals their adulthood and they are free to marry after this. To court each other the men and women sing to each other and choose their mate based on the quality of their songs and voice (I would still be single if I lived here as I can't hold a tune!). They use small horses to ferry their supplies up the mountain. The mountain area is surrounded by rice paddies. Three families share 1 acre between them and this provides enough food for the year. Farmers are not taxed by the government. The pace here is much slower and more peaceful than the other places visited so far. It is quite idyllic and serene. After half an hour we arrived at our hotel which was quaint. We climbed a further 15 minutes to the top of the hill to capture magnificent views from above and watched the sunset – just magical.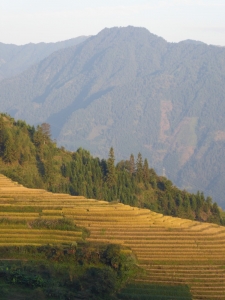 After sleeping on the hardest bed ever we awoke to a very simple breakfast of 2 eggs and a banana which we thoroughly enjoyed. We proceeded to climb down the hill and purchased a few items along the way. I bought a beautiful bronze Quan Yin statue (she just keeps popping up for me through the trip). We caught the smaller bus down to the middle car park and then the larger bus down to Guilin city (Population 830K) where we drove around and went to a beautiful restaurant for lunch. After that we visited the Reed Flute Cave which are similar to the Jenolan Caves in Australia although the lighting was a bit glitzier they were beautiful nonetheless
After dinner we caught the bus to the Li River where we went on a short cruise alongside fisherman who had trained their cormorants to catch fish and retrieve them for them. They had string around their necks to stop them swallowing the fish and when they caught a fish they hopped back on the boat where the fisherman caught them by the neck and squeezed the fish back out. It was an interesting process to watch although rougher than I had expected for the poor cormorants. On the way back to the hotel we stopped and took pictures of a beautiful pagoda building all lit up.
After a very relaxing morning catching up on my journal we caught the bus to Elephant Trunk Hill. We could see the Sun (41m high) and Moon (7 storeys high) pagodas which overlook Shan Lake. We then went to the Pearl factory where I bought myself a string of pearls and some Xmas gifts. We caught a plane to Shanghai where we based ourselves before flying to Suzhou and Hangzhou. Shanghai is the population of Australia and the airport is on the East side and our hotel was on the West side so we had over an hour drive to get across the city and arrived at our hotel at 8:30pm, found some local food and then to bed ready for another day full of cultural experiences that would last a lifetime.
Our visit to the Shanghai Museum came around the halfway point of the trip. Four floors of ceramics, coins, jade, scrolls, sculptures etc bought all we had heard and learnt in the first half of the tour by our English speaking guides to life for us and as a result we thoroughly enjoyed our time here. We went to a silk factory where we watched how silk quilts were made and did some shopping. I bought a t-shirt of Pandas doing Qi Gong, a silk bag for my pendulum and another silk bag for my feng shui template. We caught our bus to Suzhou and after lunch visited the Gardens of the Master of the Nets which was originally laid out in the 12th century but it became overgrown with time. In the 18th century it was restored as part of the home of a retired official who became a fisherman (hence the name). It has been replicated around the world. It was a truly serene place and I purchased a yin yang fish scroll, a silk embroidery of the garden and a yin yang mandala with the 12 zodiac animals on it.
Population of Suzhou is 1.3 million which is considered a small city in Chinese terms. Suzhou is known as the Venice of the East as it is built around a canal and road system. We arrived at our hotel which was beautiful and one I would highly recommend staying at – Pan Pacific Suzhou. After you guessed it – Chinese for dinner – we caught up on journal writing, repacked our bags which are getting heavier by the day due to the continual shopping and chilled out ready for cruise tomorrow morning.
We caught a riverboat around the canal system of Suzhou. We passed people doing their washing in the canal and cleaning their teeth! We pulled up and disembarked near a fresh food market which included live chickens and fish waiting to be chopped up – not pleasant at all! We then boarded the bus for a couple of hours drive to Hangzhou. Once we arrived at Hangzhou we drove to the West Lake which is the major attraction. We wondered around for an hour which was nice although quite crowded for a Sunday.
Day 11 and we boarded our trusty tour bus to drive to a Green Tea Village. We watched an amazing demonstration of the power of green tea as a detoxifier. We had lunch at the tea village and then drove to West Lake for a relaxing 1 hour cruise around the Lake. We then spent the next 5 hours traipsing around the streets of Huang Zhou and experienced a glorious 50 minute reflexology session (cost 30Y/$7!). We found a great shopping centre which was like 5th Ave New York and had a look at the great shops like Lois Vuitton, Chanel, Prada, Tiffany etc and then after dinner back to our hotel ready for an early start in the morning driving back to Shanghai.
Once we arrived at Shanghai. We went for a walk along the Bund and saw amazing views of the city skyline of the new buildings. When you turned around you could see the old world charm of the European French built buildings.
We went for a ride on the Megalay Train which took 7 minutes to get to the airport and went up to 430km/hour and then returned. We visited the underground markets (I will definitely need to buy another bag soon) where we shopped till we dropped! The pedometer literally dropped – into the squat toilet next door which was locked and vacant! Contaminated and sterilised with eucalyptus oil 21,830 steps were completed after it took its very own giant step into the squat toilet. The ten second rule was also broken as we had to break into aforementioned toilet with my designer sunglasses.
The last day of the tour included a trip to the Old Shanghai Town where I took lots of photos. I had booked us into some luxury accommodation which I thought we might need after traipsing around China for 13 days. We checked into the Sofitel, had lunch and then relaxed in our room which felt like the first tie we had truly stopped. We had high tea in Sofitel Club which was lovely then out to the Bund to see it in all its glory at night – amazing light show on buildings, more photos were taken however they didn't really capture the full effect unfortunately. We felt like we were free birds who had flown the nest.
After a lovely breakfast at the Sofitel Club we decided to check out a local book store to see if we could find some Feng Shui books. We managed to find the bookstore but no books written in English! We then boarded a hop on, hop off bus to see the sights of Shanghai. We revisited the Old Shanghai city where we had time to see the 2 acres of garden similar to the Master of Nets we saw at Suzhou previously. Next stop was the TV tower which is amazing. Decided not to go up as view was only of smog! By now my bags were overflowing with souvenirs and I knew I would be purchasing Feng Shui books at the Conference as well. After three hours of walking around we found a Samsonite Luggage store where I bought a bag to carry all my souvenirs home!
The end of the adventure is nearing but I am so thrilled to be ending with 100% Feng Shui all day every day. Studying with Master Stephen Skinner who was given the title of Grand Master at the International Conference was fantastic as usual. I had previously completed his Water Formula Course and Advanced Flying Stars Module 1 in Melbourne over the last few years. I was extremely pleased to attend the Advanced Flying Stars Module 2 in Shanghai and as I expected learnt additional information that can assist me in coming up with more solutions for my clients.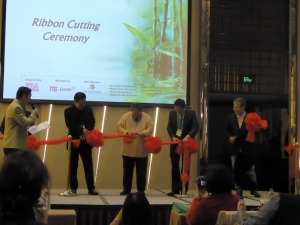 I attended the IFSC 2015 AGM where it was announced that next years conference would be in Bangkok. Had some free time to go over GM Skinner's notes and get prepared for a big two days of Conference.
One of the great things about attending conferences is the opportunity to catch up with those in the rather small Feng Shui family. We all speak the same language and time spent with others in the Feng Shui industry is always enjoyable. Being in the presence of the Grand Masters is a special honour and I feel so privileged that I have been able to learn from so many of these truly gifted people.
The theme of the Conference was Chinese Metaphysics – East to West. Day 1 of the conference went well with a variety of interesting speakers. My favourite (as always) was Grand Master Lo. Our paths have crossed many times at many conferences and he was the first Master I studied with so always holds a special place in my heart. His presentation looked at the Four Pillars (Chinese Astrology) of Emperors and Generals in Chinese History. After three weeks touring the country, listening to stories, reading books and information at museum I felt quite knowledgeable about the history of China. To have Grand Master Lo present on people that I had read about and analyse their birth details according to Four Pillars Theory was simply fascinating.
Day 2 of the conference means this amazing journey is nearly at an end – so sad!!! Major raffle prize was another painting by Grand Master Tan valued at $8888. I missed out on the previous painting he did at the Melbourne conference in November by 1 ticket number so I focussed my efforts on getting this one. The colours are all wood and fire related which are favourable to me so it would be perfect, especially in the Water Star 9 which happens to be in my office!!!  He painted it and left a white section in the middle knowing that something had to be placed there. He had a dream where Quan Yin visited him and that is when he knew he needed to put her there. I bought 8 (lucky number) tickets.
Highlights were GM Stephen Skinner examining how the effect of geography and landform can be applied in a modern high-rise city environment, Master Janene Laird who went through some in-depth case studies of her Feng Shui practice and a presentation done by Master Surendran. He had taken photos with a camera that measured energy fields which showed a remarkable difference on the energy that emanated around traditional Chinese remedies versus the energy that exists when they are not in place. My business partner Elizabeth Wiggins and I run an online shop; www.everythingfengshui.com.au
People often ask – do those remedies actually work and to be honest I have even questioned their use myself. To see the photographic evidence of the power of these traditional remedies really blew me away.
The conference ended and was followed by a Gala dinner where the raffle was going to be drawn. I had a really good feeling that it would be me!!! As is tradition at this particular International conference, delegates from the different countries get up and perform for the others. The Australian contingent got up to sing Kookaburra Sits in Old Gum Tree which was followed by other countries performing their national songs – LOL! The raffle draw commenced and GM Tan's painting was won by another Grand Master but he kindly donated it back for a redraw. Another draw occurred and no one could identify the winner so it was drawn again and  I WON – with ticket number 0002! GM Tan then advised he had another painting to win which represented Feng Shui – wind and water. They pulled the ticket out of the barrel and I WON AGAIN – ticket number 0008 (of course). I did the honourable thing and gave the painting up for a redraw as I had already won the first one (although a pair would have been amazing!). I was very pleased when Master Aparna won.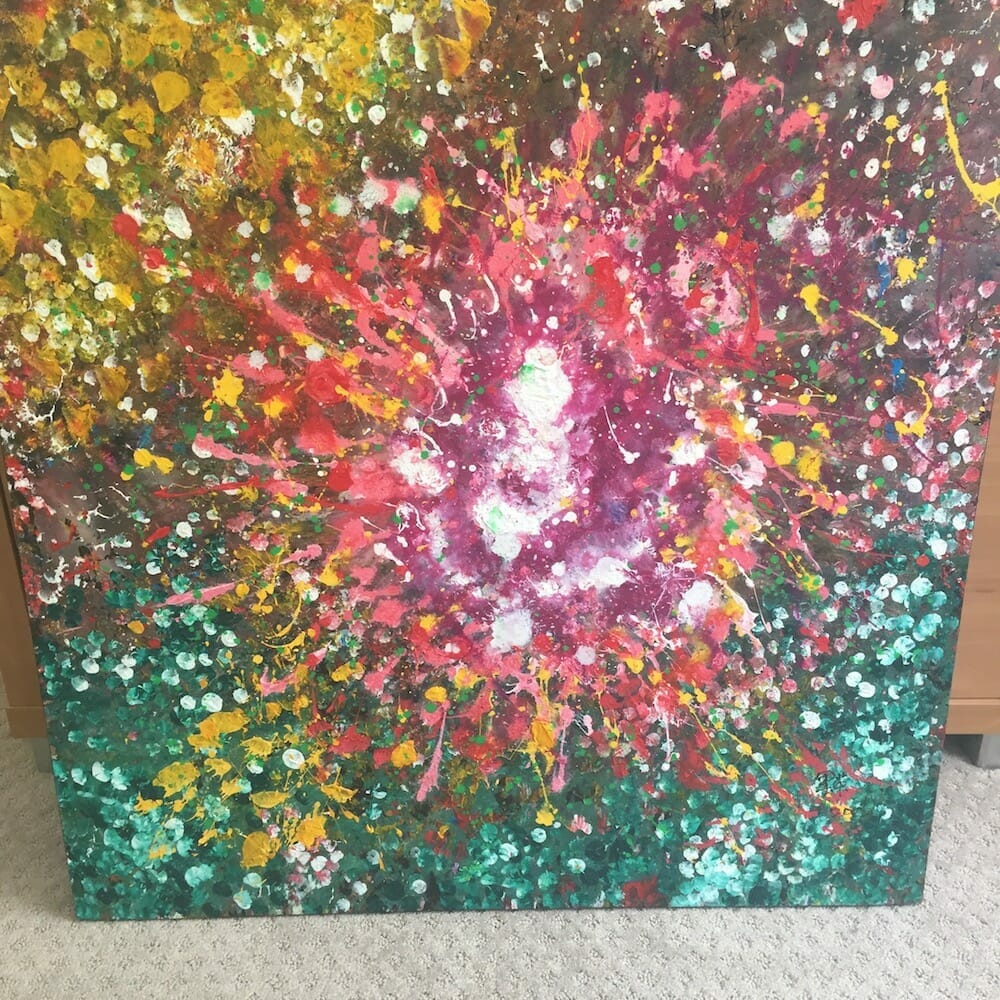 The next day we flew back to Sydney our adventure over but with lots of memories and souvenirs which will live on. It was such a wonderful trip and I really enjoyed sharing it all with my travel buddy Linda. As an aside we averaged 13500 steps a day.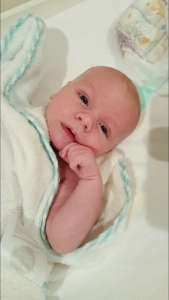 I hit the ground running once the plane landed at 10am on the Tuesday as I had a client to see at 1pm at Lindfield and 2 appointments booked each day for the rest of the week and a wedding to attend on the Saturday. My grandson was also born on the Thursday which was such a wonderful experience to be part of as well. We are truly besotted! I have now been back for 5 weeks and only just found time to write this blog which I hope you have enjoyed!